Latest posts by Kyrylo Taranenko
(see all)
What is WhatsApp Marketing Services
Whatsapp messenger was acquired by Facebook in 2014. Since that time, the app has been geared towards helping businesses to interact with their customers:
In January 2018, Whatsapp launched the

Whatsapp Business application for small businesses

on iOS. In 2019 the Whatsapp marketing tool released the Android version. Back then, the Whatsapp Business app only enabled users to customize their business profiles and configure business hours. 

Later in 2018, Whatsapp introduced

broadcast functionality

that enabled businesses to send the news to the list of contacts that have subscribed to the updates. There are

limitations to that feature though

: each broadcast list can only include 256 contacts. 

In 2019, Facebook added the

click-to-Whatsapp marketing option for businesses

to include in your ad campaigns. It enables you to show ads on Facebook that prompt viewers to start a chat with your WA business account.

In February 2021 Whatsapp

changed its Privacy Policy and Terms of Service

to track information of how customers interact with businesses and share it with Facebook. This introduced new options for better

ad campaign targeting and remarketing of your Whatsapp customers on Facebook. 
Why Should You Use WhatsApp for Marketing Your Business?
Whatsapp has recently crossed the mark of 2 billion users, and among others has a major market share in Israel, UK, Spain, Singapore, Italy, Germany, India, Africa, and the Netherlands.
According to Whatsapp marketing success cases published by Facebook, using Whatsapp increases reply rates by 30 to 40%, helps to get 10 to 20% new customers, and increases sales by 10 to 45% depending on your niche.
There are different ways to engage with your audience on Whatsapp, from offering real-time customer support to creative marketing campaigns. We will cover the most successful Whatsapp campaign ideas in this article. 
Whatsapp Business success cases:
RentMantra is a rental service. They help to prepare rental agreements, arrange packing and moving services. Using Whatsapp as a customer support tool helped RentMantra become more efficient, and increase sales. Specific results include a 10% increase in customers, 15% increase in sales.
Via Whatsapp, RentMantra assists with property listings, shares company information like hours of operation, and keeps track of inbound messages.
The business owner Shobhit says that the WhatsApp Business app works for them better than emails when they send out product images, pitch services and interact with clients directly.
Mujer Asertiva (Assertive Woman) is a mentoring program for female entrepreneurs. As the business was growing, Lisseth needed a way to seamlessly communicate with her clients. To achieve that she began using the WhatsApp Business app in March 2019.
Now Lisseth connects with 300 of her clients, who are spread across 10 states in Mexico, the US, Colombia, Peru, and Spain. Whatsapp's labels feature helps Lisseth organize her contacts by the services they want, and the quick replies feature helps in responding to frequently asked questions—from workshop invites to reminders and follow-ups.
WhatsApp Business has made it easier for Lisseth's non-local customers to participate in Mujer Asertiva's program remotely. A customer based in Tuxtla, Chiapas (more than 520 miles away from Mexico City) reports that sending and receiving messages via WhatsApp is much more convenient than using any other platform.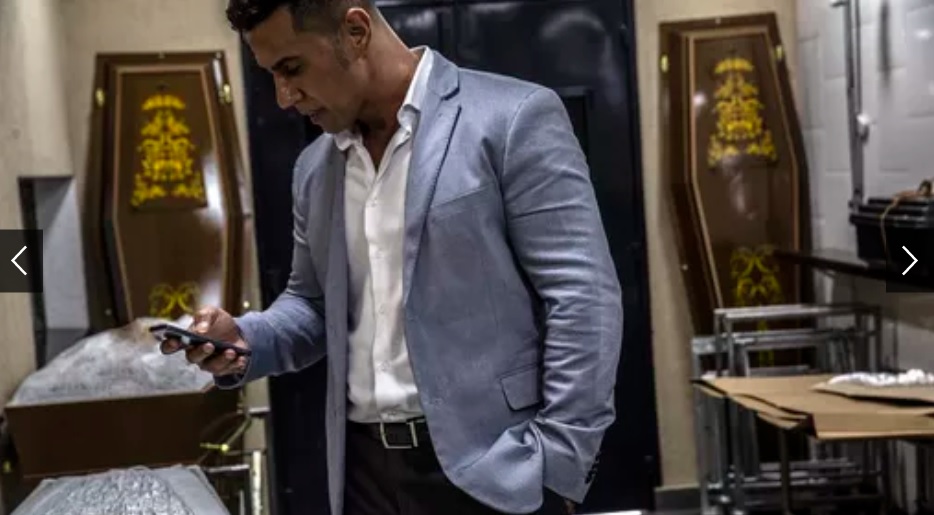 Claudio turned to the WhatsApp Business app in 2018 to improve his customers' experience. Today, Luna Funerária provides reliable service on Whatsapp. Claudio says they receive about 300 messages a day, and sales of primary offerings have also increased, including flower sales and funeral plans, which are Luna Funerária's most requested service.
Communicating via the WhatsApp Business app has helped Claudio provide faster and more reliable support to his customers. On average they get 300 customer messages a day, 45% increase in flower sales, 80% increase in sales of funeral plans, 60% increase in sales of end-of-life services.
How to use WhatsApp Marketing Services
Start a one-on-one chat with Whatsapp Short Link
In WhatsApp Business App, you can create a link that will prompt your website visitors to start a new Whatsapp Chat with your business. It is called Short Links. Short Links work like regular URLs, but when you click on one, it opens WhatsApp on the phone or WhatsApp Web of your visitor and takes them directly to the chat. This makes messaging a business over WhatsApp easy for your potential customers.
How to create a Whatsapp short link for your website:
Launch your WhatsApp Business app

Go to Settings

Tap on "Business settings"

There you'll see Short Link and where to share it, tap on it.

Whatsapp will generate the short link. 
Additionally, you can set the template for your customers to make it easier for them to send the first message. They will be able to edit it if they wish.
Use Broadcast lists to send the updates to your customers
WhatsApp Business App Broadcast allows users to send bulk messages and rich media content to multiple contacts at once for free. While this may seem similar to a WhatsApp Group, the major difference is that people cannot see other people on the same Broadcast List. 
Open WhatsApp.

Tap Broadcast Lists at the top of the Chats screen.

Tap New List at the bottom of the Broadcast Lists screen.

Search for or select the contacts you want to add.

Tap Create.
This will create a new broadcast list. When you send a message to the broadcast list, recipients will receive the message as a normal message. When they reply, it'll appear as a normal message on your Chats screen. Their reply will not be sent to other recipients in the broadcast list.
Note: Only contacts who have added you to their phone's address book will receive your broadcast message, so you need to prompt them to save your business number into their contacts first.
How to avoid BroadCast list limitations
Broadcast lists are handy, but there are two nasty limitations to this feature:
Any

Broadcast list is limited to 256 contacts

. To include more, you need to create another broadcast list.

A bulk message on

Broadcast List can only be sent to recipients who have your number saved in their phones' address book.
If you need Whatsapp marketing software that can send Whatsapp messages in bulk to more than 256 contacts, TimelinesAI can get you covered. The Bulk Reply feature of the TimelinesAI app enables you to:
Send the marketing message in bulk to the customers who have interacted with your business. The recipients don't have to have your number saved in their contact book.

Send the bulk reply to more than 256 contacts. You can segment or filter customer chats by labels, types (groups or direct chats) and save these lists as presets. The bulk reply is useful to send updates, news, and upsell services to your customers. 
 You can register a free profile on the TimelinesAI website.
Whatsapp Marketing and Teamwork Software
Whatsapp isn't well suited for teamwork, as it doesn't have features for collaboration on chats and contacts. It may seem that the only way to work with your team on Whatsapp is to give them control over your account and add every client to a group chat. But in this case, it will be hard for your sales or support team to handle hundreds of such chats on Whatsapp.
There are applications designed specifically to enable your managers to work as a team on your Whatsapp number. Here is the list of top 3 tools for using Whatsapp in your business:
TimelinesAI helps to scale your teamwork on Whatsapp and reply to more contacts in less time. You can connect one or several WA numbers, invite multiple agents, and let your team collectively manage chats on Whatsapp. It enables your agents to work on Whatsapp together even if they are located remotely.
The app works with regular and business numbers. You can control the efficiency of your agent's communication, see chats from different numbers in one place, and take shifts on managing Whatsapp communication with your clients.
To increase team productivity on Whatsapp, you can use bulk reply to send the same message to several chats or groups at once. Your agents will be able to start new chats on Whatsapp right from the TimelinesAI interface, set follow-up reminders, and exchange internal comments.
If you use a CRM, TimelinesAI can help you integrate Whatsapp with PipeDrive, Hubspot, or any other CRM. Messages from your contacts will be automatically synced into your system.
MessageBird is a way to go if you aren't using a CRM yet and have a lot of marketing channels, such as Facebook, SMS, Twilio, and Whatsapp. It provides you with an interface to streamline all communication into one place.
This omnichannel CRM features a Flow Builder that enables you to build automations on top of your communication channels. To use it with Whatsapp you need to have the Whatsapp Business API that you can purchase through MessageBird.
Like almost any CRM, MessageBird provides you with dashboards and metrics to measure your team's performance on Whatsapp and other channels.
This app enables you to set auto reply with no additional hassle. You can:
create your own chat bot, 

set the reply schedule, 

and even configure the auto reply for group chats on Whatsapp. 
We've previously posted the collection of top 10 productivity tools for Whatsapp Business. Check it out if you want to get even more useful tools for using Whatsapp on multiple computers, or marketing on Whatsapp!
WhatsApp Marketing Campaign Examples
Whatsapp's Terms of Service only allow messaging people who have contacted your business on Whatsapp first. Does this mean that you can't market on Whatsapp? You most definitely can, you just need to be a little more creative!
This SearchEngineJournal study states that the open rate of messages on Whatsapp is close to 70%. It's much bigger than the ~30% average rate for email, so putting additional effort to use Whatsapp in your business may actually be worth it. 
Here are the 3 best Whatsapp Marketing tactics that you can apply right now: 
After you sync your Facebook Business account with your WhatsApp Business account, it is easy to get started. You can boost a post or create an ad on Facebook or Instagram and direct your users to your WhatsApp Business account. When a person taps on the Send Message CTA in the Facebook ad, they will be transferred to a pre-filled WhatsApp chat where they can message your business quickly. People that don't have WhatsApp installed on their phone will be asked if they want to download the messaging app. 
Facebook states that more than 2 billion of people are using Whatsapp already, so there is definitely an audience for your business. Here's how you may apply it for different niches.
Whether it is helping consumers to find the right product, or using the buyer's purchasing history to target them with relevant promotions, discount offer campaigns, you can advertise these on the users' newsfeed with targeted campaigns and offer customer support on WhatsApp with more details on products mentioned in the Facebook/Instagram Ad. However, this should not conflict with WhatsApp's Commerce Policy. 
Advertisers can promote a fast food ad for a food ordering service, or an upcoming event or even a bookings promotion via Facebook and drive consumers to WhatsApp to answer any questions and concerns and also take special requests and customizations wherever possible. 
Another way to catch a users' attention is using branding messages at scale. Such as a CSR branding initiative, "Want to learn how we are supporting child education and development in the interiors of India?" It is a great way to let people discover more about the program through WhatsApp and also connect better with the brand.
After having purchased a flight ticket, or a trip, consumers can be coaxed to add-on services like seat upgrades and travel insurance. Facebook is a great way to get the consumer's attention, while WhatsApp might be the perfect way to take the conversation forward and close the deal.
In all of the cases listed above, It is important to have a human agent available on WhatsApp through live chat or web chat. Use TimelinesAI to scale your marketing and support team and let them collectively manage contacts from the same number.
You can think of WhatsApp Business's catalog tool as a mobile storefront. It lets your customers browse your products without leaving the app. This tool is useful for highlighting new products, seasonal collections or bestsellers.
Here are a few key facts about the catalog:
You can upload a maximum of 500 products or services.

Each product or service can include a title, price, description, product code and link to the product on your website.

Each product has an image.

You can share links from the catalog in WhatsApp conversations.
Having to split the bill or deal with transferring money is inconvenient, but talking about who owes who money is awkward. The Tikkie app solved the inconvenience problem, then took it a step further to turn an embarrassing moment into a glorious opportunity for a WhatsApp marketing campaign.
Tikkie app users are onboarded into the campaign when they receive a notification from the Tikkie app letting them know that a sticker pack to help them with the awkward situation of reminding someone they owe you money is available.
The Tikkie WhatsApp Marketing Campaign uses WhatsApp Stickers to spread brand awareness over WhatsApp. All users need to do is click the add to WhatsApp button, and the sticker pack is added to WhatsApp. On the surface, you would think of this as a branding exercise, but it is much more that than. Since the WhatsApp sticker packs are all about lending money, splitting the bill and getting your money back. The branded stickers will be sent to the people who are experiencing the problem that the Tikkie app is solving. Genius!
Custom stickers must meet the following requirements:
Each sticker has a transparent background.

Stickers must be exactly 512×512 pixels.

Each sticker must be less than 100 KB.
You must also provide an icon that'll be used to represent your sticker pack in the WhatsApp sticker picker or tray. This image should be 96×96 pixels and must be less than 50 KB.
Conclusion
Using Whatsapp for marketing can benefit your business: this messenger has a user base of 2 billion people worldwide, open rate is close to 70% and it can make a huge impact on sales. 
Whatsapp can be used in any part of your funnel: 
to generate leads,

Send updates to Broadcast subscribers,

Upsale customers with Catalogues

Maintain long-term relations with your customers
If you want to share a Whatsapp number with your team, scale customer support on Whatsapp, or control communication with your clients, use Whatsapp marketing tools such as TimelinesAI.
FAQ 
What is the difference between Whatsapp Business and Whatsapp Business API?
WhatsApp Business is a mobile app tailored for small businesses, and Whatsapp Business API  is designed for larger companies to automate their work with large volumes of messages and connect Whatsapp to CRM systems. Whatsapp Business number can only be used on one phone, and Whatsapp Business API makes information from Whatsapp accessible to unlimited numbers and systems.
Do I need to use Whatsapp Business for marketing on Whatsapp?

 
Many small businesses use regular numbers on their websites until they grow and it works fine for them. However, you need a Whatsapp Business number to get useful features, such as shortlink to your website, broadcast and business catalogue. 
How to use my Whatsapp Business number on multiple computers?
Use marketing tools such as TimelinesAI to share access to manage your number with your agents. It works with both regular and business numbers. Such apps can increase your team productivity with bulk messaging, follow up reminders, CRM integration and segmentation for your contacts.
How to integrate Whatsapp with a CRM?
To integrate Whatsapp with a CRM, you need to use Whatsapp Business API available through official providers such as Twilio or MessageBird. However, this option requires development and frequent payments (e.g. you need to pay to answer your clients after 24 hours of first contact with them). 
Another option is Whatsapp to CRM integration through Zapier and webhooks.
Read the latest interview with CEO and co-Founder of TimelinesAI Ishay Tentser on webplanet.com